Merang Waterfront Jetty serves as the primary access point to three beautiful islands: Redang Island, Lang Tengah Island, and Bidong Island. Situated approximately 25km north of Kuala Terengganu, this jetty is a convenient starting point for island adventures.
Operated by the state government, Merang Waterfront Jetty is a public facility that offers reliable transportation services. It is worth noting that there is another jetty in close proximity called Merang Jetty, which is privately owned.
However, it is important not to confuse Merang Jetty with Marang Jetty, located in the southern part of Kuala Terengganu. Marang Jetty specifically caters to visitors heading to Kapas Island. To avoid any confusion, please refer to the map provided below for accurate directions.
When utilizing the services of Merang Waterfront Jetty, all tourists are required to pay a terminal fee of RM 5 per person. This fee helps maintain the jetty and ensures a pleasant experience for all visitors.
Convenient parking facilities are available at the jetty for those traveling by car. The parking rates range from RM 10 to RM 20 per day. If you plan to embark on a 3-day, 2-night island excursion, you will be charged a total of RM 30 per car for parking.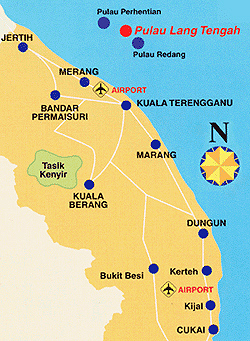 Boat Ticket Schedules & Prices
From
To
Time
Price
Merang Jetty
Redang Island
8:00 am, 9:30 am, 10:30 am, 1:00 pm
MYR 55/adult
MYR 35/child
Redang Island
Merang Jetty
9:00 am, 11:00 am, 1:00 pm
MYR 55/adult
MYR 35/child
Merang Jetty
Lang Tengah Island
10:00 am, 1:00 pm
MYR 60/adult
MYR 40/child
Lang Tengah Island
Merang Jetty
12:00 pm
MYR 60/adult
MYR 40/child
Child rates apply to children aged 4-12 years old.
To book boat ticket to Redang Island & Lang Tengah Island, please click here.
Please note that Bidong Island does not have scheduled boat services; only private charters are available. For more information, kindly email your inquiries to traiseatrip@gmail.com or contact us via WhatsApp.